Poetry (click on the title (not the cover) to bring up each book)

The philosophical one. This is first collection I wrote. Not as good as the others in skill but beyond compare in the range and philosphical nature of many of its poems. It is plain Zen. The subjects were good and diverse, and the rhyming was a device I sought to master and did pretty well at, probably sometimes at the expense of the content. But the presise meter and form was a straightjacket I learned still to move about in fairly freely.
The lite one. This was the first to be written in all in the same year, January to December, as was Triumvirum and Quadranine. It was consciously meant to be almost the opposite of The Versatile Verse with short poems about nothing too important, all written just for fun. Rhyming was often unimportant or not used at all. What comes to mind first and foremost of this collection was #1 on page one chronologically as written, This Room. It was written about the Reading Room of the Library of Congress, which had left an impression on me which I wrote about in that poem when back at college in January waiting for a class to start.
The political one. Written while in college mostly in a dorm (deja vu). I really hit a stride with this one. It combined the light playfulness of Repetition with a return to more serious subjects, and the structures became more complex within.


The complex one. (The cover was a Tesseract! Big time deja vu on that one.) The title referred to the fact that all previous collections ended up divided into 9 sections, and this one was also, thus Quadra 9. All except Triumvirum's 3x3 format were just coincidentally divided into 9 sections. I can't compare this collection to the others. It just exploded creatively. Sometimes it worked, sometimes it didn't. When or where it worked, it was awesome though. Ocassionally dark and twisted, yet never without a purpose or soul. The Bleeding Crowd section comes to mind in that respect. It ended with the epic Vestabur in December(turns out I was wrong, Vestabur was written at the beginning of the year. My bad.), written while I was extremely feverish (like 105 F) with the flu and severely way way out of it. Only when I was just as ill exactly one week later did I return to writing it but skipped ahead to the end because I couldn't wait to find out how it turned out. Where it came from, God only knows.
The final one. Poetry just was no fun anymore with Pentacle. I began to feel every poem had to be better than every one before in every way. The original title was to be a word I found in a dictionary, Pentium, which was a better name but some obscure computer chip company in California forever warped its meaning. (The sixth book was to be formulas and equations mixed with poems about the dehumanizing effect of technology and was to have been called Hexidecimal. Alas, I never got the math down enough to come up with Nobel prize worthy original formulas to mix in with the poems <g T=D*V*-g?)
Besides, Pentacle took almost a decade between to get back to and finally wrap up once I was no longer self-conscious about writing it. One day after 8 years, I just wrote Too Long Gone. My mind was in a dark place, but the poem, completely contrary to its words, was saying the fire and light were still in there somewhere trying to get out, not just lamenting their loss. To admit you miss something is to admit that it is still a part of you, even if you don't or can't see it that way yet. Its ending point was at Going Home, about both dying and about moving to Hawaii, which to me were both the same thing. I was to live there for the rest of my life. (From RCP2: "When I moved to Hawaii I vowed to stay there until humanity destroyed itself, while I did nothing, and maybe got drunk afterwards. I thought if I cared about nothing, I had nothing to worry about. That makes me sound like a bad person, though I was not and was an agreeable sort who got along with everyone. Like so many others, I just gave up on the rest of the world outside my own little paradise and life." Turned out I wasn't so lucky.)
The only future I saw was nothingness, all black. Though I was rich and had much to look forward to, I sensed no future for me whatsoever, only doom. I was shocked when the plane landed that I had made it there, so strong was the feeling I could not possibly, and was in awe every day that I was there. It was like existing outside of time. Ironically, leaving Hawaii 3 years later, extremely poor, completely screwed beyond all hope, I saw the future as being completely white, limitless in potential where anything is possible. It is literally a whole new ballgame, a complete rebirth, like going through a black hole into a whole new universe, or a whole new life. A corner definitely has been turned somehow and every step is into new and uncharted territory.

---
Lyricist
During my absence from writing poetry, since it no longer made me happy, I turned to writing just songs instead. I had been writing songs off and on since I was 15 but never as seriously as poetry. When I gave up on poetry, I turned back to writing songs and wrote lots of them. As a book compilation of the lyrics of my favorites from this period, an original version of Lyricist was included with really old versions (1997 or so) of the ZRFW and Omega programs, but it has been seriously whittled down over the years to this smaller version, but 2 new songs were added around the year 2000. It originally had 4 sections, Life, Love, Sex, and Death. Also, Dreaming of you, originally written as a poem in Repetition, was reworked into a song by adding a chorus.

---
Though there were only 5 original poetry books, there were 3 smaller recompilations of them worthy of note. The collection of poems, The Dance, which originally was called Montage, assembled most of the best 30 or so in an order taking one on a journey from birth to death. The Dance I believe is the best poem (for those who don't have a clue what poetry is about, words and even entire poems can have more than one meaning. In the poem, The Dance, "borrowed suits" also means our bodies. "The night" and "rented hall" also are allegorical for the Universe, stars, and time. It is not just about a prom or a dance. Clues to these deeper levels are "gather forth in stolen time" and "within this space outside of place". Thus by that other way of reading it, "fade like stars into the morning light" means the end of time after all the stars go out, all matter eventually dissolves, and another new defintion of existence or lack therof, either way a new era of the Universe, dawns.), and Tomorrow, The Immortals, and The Dark Horse seem the most masterful ones. Longform was a collection of the longer story form poems all in one place. Only 6 were really long, but some other story type ones were included as well to make it a collection.

Starry Journeys was a similar recompilation which overlapped many in the other 2 recompilations but grouped together the all poems that had traveling or journey themes. It included 2 left out of the earlier works, Leaving Home which predates all of others except The Burnout, and Vangaurd Ventures from the Quadranine era. It also included 2 new ones, Whenever You, and From Being to Becoming, the latter written for Towards Tomorrow. Other poems written specifically for later works areThe Representative of the Past to the Future, Expectations, and First or Last, also for Towards Tomorrow, and A Pulse, Bent Paths, One Light, No One is Ahead, What Is, Each Thing in the Universe, and To Co-Exist, all for the 2003 .8 (In Wonder) appendages added to 2002's Deconstrucing the Universe.

---
Prose (in reverse order) (click on the title to bring up each book)
As being Deconstucting the Universe's immediate predecessor is the way I see Towards Tomorrow. It was about time, many of its themes turn up somewhere or in some other form in Deconstructing the Universe, and also for the reasons stated to the left under Pentacle, it was to be a coda, a final note. Towards Tomorrow's First Words themes are found better developed in Deconstructing the Universe's Perspective. Growing Expectations is the only reasonable dispassionate look at cloning I have ever read. Love it (no one does) or hate it, (most do) like the worst weapon imaginable which humanity can build, it is only a matter of time before it becomes a reality. No countries will talk about cloning, no countries will admit to doing it, but countries that can afford to given the present political environment, will convince themselves they cannot afford not to, the potential rewards are that great, though barbaric.
Barbarity never stopped humanity before and won't in this respect either. Any strategic advantage is always considered so long as nations play the power struggle game, and they show no signs of bowing out of that game any time soon. Trust as Faith was written in direct response to the immediate response to the events of September 11th, 2001. It was about the rapid erosion of the faith people must have in one another for societies to exist and prosper.
Anger turned to fear, fear to paranoia, paranoia to blind murderous rage, and anyone was fair game. Neighbors turned on neighbors, and innocent people had their businesses burned or beaten or killed for looking like the wrong sort of people. It was relatively small scale, but the minority involved was miniscule, and so it could not escalate as it might have if it had been a sizable percentage of the population. It was though, for me enough to see how Bosnia or Rwanda can happen anywhere.
As it says "A murder in and of itself is a horrible thing, but when it sets off a chain reaction leading to many, then many times many other horrible acts, it is an even greater horrible thing. And when that was the intention all along it is revolting to the extreme. The target is nothing less than our goodwill, our trust of each other, and nothing can we afford less to lose...it is easier when constantly shown trust and respect to trust in others and to believe that most people are good, for in fact they are, even if because of some few we stop treating them that way, or even worse, stop believing it."
"Where trust does not exist, nations cannot long endure, so much in life are we dependent upon one another. There are those who would pay any price to destroy that trust in each other, and thereby any trust in any good or positive future, and we must always be on guard that these visions of our future do not prevail. So many more good men and women have given their lives for the future, a better future, one where people don't live in constant hate and fear, and it is to those who hoped so greatly for their children and their children's children, for us, to live beyond their dangerous and uncertain times in an age of peace and goodwill."
"These are the visions of the future worth believing in, however unlikely they may someday seem likely to exist, but due to others suffering long ago in less optimistic times than we can imagine, they held close to these extremely radical beliefs so out of step with their times as any could ever be, and made that optimism prevail on an Earth that comes tantalizingly close to what they believed could one day be achieved. Remember those people and what they hoped for us, how they were tortured and killed for their dreams they could not have known would one day become our dreams and define our world. Remember those millions gone, their hopes for this tomorrow, when contemplating those would kill to destroy that better world they died for. Whose vision for which future will prevail is in no ones hands now but our own. No matter the odds, one cannot bet against the brighter future. It is a reality built on trust, and losing faith in it, betting against it, against ourselves, will destroy it."
---
Morality: Individual and Social
This is from the introduction.. "I have only recently started writing again after 10 years of not doing much except occasionally some poems with years in between even at that. After having read The Discourses by Epictetus, (http://classics.mit.edu/Epictetus/) and seeing morality dealt with as an abstract outside of law and religion, both topics which I have studied greatly, I found it intriguing. Morality is something we all know really has nothing to do with what is legally required of us. It is when we do as we feel is right not because we are required to by law, or because to do otherwise would risk eternal damnation, both valid reasons for doing or not doing something, but when it applies to what each of us as a person believes to be right, we are accurately judged to be or not to be moral persons. Simply doing something because you are told to or are afraid of the consequences otherwise is not the same as believing it yourself."
I tried to maintain a balanced look at morality independent of culture and time, that notions of morality evolve over time, how some things which were legal yesterday become illegal today or how things which were illegal one day suddenly became legal the next.
Also, that "Not everyone one may agree today on what if any changes should be made to our present notions of what is moral or what is immoral, but through that rather irksome thing called talking about it and bothering us with their notions which usually do not often jibe with our own, that slow roll is inching toward what people will find aghast 30 years from now which people are doing legally today but just prefer not to talk or think about, just as racial discrimination was 30 years ago from today. Not having it happen at all would be to be completely and utterly morally stagnant as a society as China has been in recent times, attempting to eliminate all avenues of change. It is in the narrow-mindedness of those who always think that today's culture is the penultimate and requires no improvements at all which slows or halts societies from ever becoming more just, by eliminating debates which inevitably will disturb and disrupt, to a minor degree many or most in a society, but which future notions of morality depend upon."
In retrospect, it was the beginning of the wider perspectives in Towards Tomorrow and wide open perspectives in Deconstructing the Universe. Thank you Epictetus, you dead Roman former slave you. You still rock.

---
These books are ancient history to me now. I reread them from time to time, find little to disagree with, possibly because they use so many words to say so little new. Or maybe that there is little left in them I do not know already. Without them I would not have grown beyond them, but they are to me now like the cornerstones of a bridge now submerged beneath the river. Still they are, and bridges need their cornerstones.

---
Program Artwork:
---
Artwork: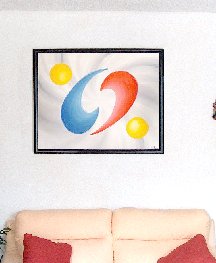 ---